About The Nonprofit Center for Excellence and Philanthropy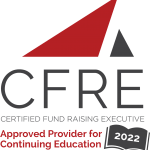 CFRE International does not sponsor or endorse any educational programs and PSC Nonprofit Center offerings (similar to many offerings at other locations) are not developed in conjunction with CFRE International.
PENSACOLA STATE COLLEGE helps strengthen nonprofit and philanthropic organizations by providing education and management to support board governance, enhance the business practices of nonprofit organizations, and expand the influence of the nonprofit sector.
The Pensacola State College's Nonprofit Center for Excellence allows nonprofit leaders to earn certified fundraising executives (CFRE) credit for their mastery of skills and information shared in our workshops. All CFRE credits are under Category 1.B – Education of the CFRE International application for initial certification and/or recertification. (not sure what this means)
Full-day participation in a workshop is applicable for 7 points
Half-day participation in a workshop is applicable for 3.5 points
Additionally, participation in any of the PSC workshops or the annual nonprofit summit will assist you in learning or reviewing concepts covered on the Certified Fund Raising Executive (CFRE) examination as detailed on the Test Content Outline provided by CFRE International.

Our partnership with the Pensacola State College Nonprofit Center for Excellence has provided tremendous value for our community board service program.  The training our leaders serving on nonprofit boards throughout the country have received has given them a deeper understanding of their role as a board member and provided them with tangible tools and resources to use.
We're fortunate to have the Nonprofit Center for Excellence and Philanthropy that is focused on strengthening the effectiveness of all nonprofits in our area. The value provided through the training(s), speakers, networking and annual summit will enhance the business practices of the participating organizations, helping to expand their influence and, thus, ultimately benefit those in need in our community.
The NPC provides some of the highest quality training in our area, featuring regional and national subject matter experts delivering practical, affordable training.
The Nonprofit Center for Excellence is a gem in Pensacola. As a busy not-for-profit director, it is so great to have an agency here that is focused on improving area nonprofit professionals. I appreciate the training and networking opportunities.
It's easy to lose track of priorities. But when we have an opportunity to step away and connect with peers and a real leader in the field, it helps us refocus our priorities so we can invest in things that are important and that are going to make our organization, and ultimately our community, a better place to live and work.
From a professional development standpoint, I can get ideas on how to make our organization stronger. I get to talk about all these things with my counterparts in the community who are doing the same things. And to hear from a consultant of this caliber sharing his best practices and ways I can translate them to my own role is invaluable.

Upcoming Workshops and Training
Attendees benefit from professional trainers and expert panelists who equip attendees with best-practices and practical templates that can be used in their organizations.
Workshops help attendees earn continuing education units necessary to secure and renew certification as a Certified Fund Raising Executive.
Workshops and Training Location